About Me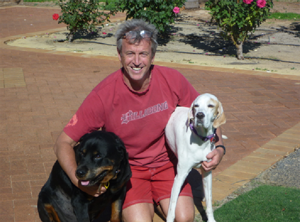 Welcome to my House Sitting and Pet Minding website.
My name is Michael Mathews. I have been Pet minding since 2008
I am a mature male, single, very strong and healthy and very experienced with all types of animals.
I am a non smoker, non drinker and have a current police clearance certificate. I am neat and tidy and take the house sitting commitment very seriously. An attitude of "she'll be OK mate" does not belong in the house sitting industry. I am meticulous and thorough and I always look upon myself as the "Occupational Health and Safety Officer" for your pets.
How/Why did I get into Pet Minding…
---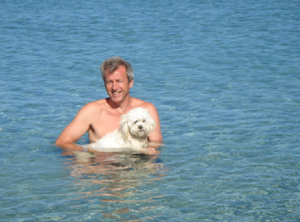 The reason I got into pet minding was because I had been living with my partner for many years. She had 4 lovely pets. When we went our separate ways she took all her pets. I rented a unit and every afternoon I would arrive home, open the front door and experience a feeling of loneliness. There was just no life force, no energy…no pets to play with, no happiness, no laughter. It is not much fun watching TV without a cat on the couch and a dog at your feet. I saw an advert in the local newspaper "House Sitter Wanted" I went for the interview, produced my Police Clearance Certificate and started house sitting. I can honestly say that the last few years have been the most joyful, blissful and rewarding years of my life. Over the past  few years I have looked after hundreds of pets, including 26 Alpacas, big dogs like Rottys, little dogs like Chihuahuas, fast dogs like Huskies,  asthmatic cats on ventolin pumps, ducks, fish ponds, chickens, bird aviaries, horses and elephants (only joking… but I would be happy to give it a go…imagine picking up their daily poo in a yellow poo bag!!!)
I have looked after pets in the suburbs and on farms, even had to learn to drive a tractor to pick up all the Alpaca poo, and mow the grass with a drive on mower.
My goal is…
---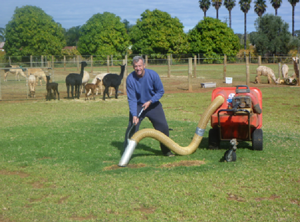 When ever I visit pet owners I jokingly say to them, "My goal is when your pets go to pet heaven at the end of their natural life, the Pet God says, "Welcome to Pet Heaven, tell me, which 2 weeks of your life did you enjoy the most?
Your pets reply, "My owners were lovely and kind, they really loved me, they fed me, took me to the vet, walked me regularly, gave me comfort, shelter and protection and I am very grateful for what they did….but wow, when that house sitter came around to look after me we had such a ball. All he had to do was concentrate on me. Real quality time.
Testimonials from the Pets
---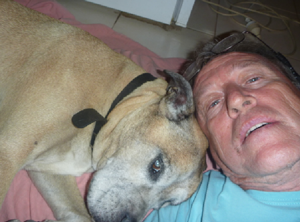 Dougal the Pugaleer said …"We discovered a forest in Kenwick. Everyday I ran with another 10 dogs through the trees and swum in the streams. I lost weight and my owners said I looked like I had been to a health retreat."
Buffy, the 14 years old female boxer said…"We went to all the big protected dog areas like Whiteman Park and Wellard where we played with more than 50 dogs in the enclosed area. The attention from these young males was appreciated. What has made this relationship very special is that although my owners are back and Mike is looking after other pets, every week Mike comes back with his new dogs to pick me up and takes me to Whiteman Park so I can catch up with all my pals."
Chopper from Riverton said…"Mike allowed me to sleep inside when it was cold; when it was very cold I even slept under the sheets and snuggled up with him."
Flik from Kalamunda said…"Mike built me a lovely dog house so I would not be frightened in the storms"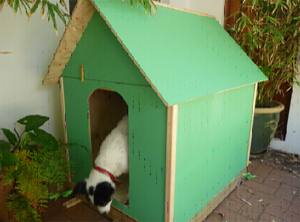 Annie and Barney, pugs from Burswood said…"Mike built me a ramp to the car seat so my slightly overweight Annie and I could get into the car and be driven to the river near Burswood Casino"
Millie, an old Chihuahua from Wellard said…"Once when I badly hurt my back and leg on the steps, Mike took me to the vet and then found a dog Reike massage lady who gave me weekly massages. I recovered fully within 4 weeks. During my recovery process, every afternoon Mike would lay me on my back on the warm tiles. The warm tiles acted like a hot pad. Pretty clever I thought
Fannie, the really old horse from Kenwick said…"I am a very old horse and every night after dinner Mike would come to the stables at 9pm and give me the most wonderful brushing session, followed by 10 minutes of deep tissue massage…I would sleep really well after that"


Lindy, the Maltese Shiatsu from Melville said…"When my owners left me with Mike, I was a white, clean, well groomed pretty lap dog. That soon changed."
Every morning we would run on the golf course at Point Walter. Mike built me a raft and every afternoon we would play in the the Swan river near Attadale dog park. A few days before my owners came back I was dirty, black, matted and had dreadlocks like Bob Marley, but I loved every minute of the experience. The day before my owners arrived back, we had a good shampoo and grooming session and I was back to being pretty. Mike put together a 10 minute video of all the activities we had done and showed my Mom and Dad. My Mom cried watching the video and promised to take me back to all my favourite places"
Hollee from Aubin Grove said…"Mike discovered this wooded area near an Equestrian Centre. We walked there every morning for a week. In one early morning walk we saw horses, alpacas, a fox, rabbits, kangaroos, rats and many species of birds. My nose has never been so stimulated with so many different smells"
White Cat from the hills said…"On Christmas day I got into a fight. I lost. Mike had to use his initiative. My regular vet was not open so we had to find an emergency vet. Mike had to pay $370 on his credit card. Mike said to me that he had to miss his Christmas lunch reunion, but I was worth it. I felt special when he said that. He also explained to me that when you take on a house sitting assignment, you are there to be "of service" and you take on the responsibility of looking after the pets as if they were your own. I felt I was in good hands"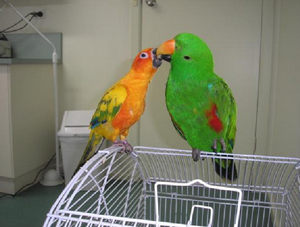 " Green Bird in Wellard said…"Mike came to look after 30 birds in 4 cages. I was just a young female but one day he noticed that I was ripping up all the newspaper. He thought "Something is happening here"
"He went into the bush, came back with lots of straw, leaves, twigs and branches. He felt I needed some privacy. He found a new cage in the garage, put in a shoe box, and now I am a proud Mom"
Darcy, the staffy from South Perth said.. "We socialised at various outdoor farmers markets, got into trouble for pinching a sausage off a plate, nearly got evicted. Mike told the biggest fib to the market manager. He said I was a rescue dog and this was my day out from the refuge so please forgive the dog for being bad mannered."
Honky, the chief duck said "Mike looked after us on a rural property in the Swan Valley with 26 Alpacas, 6 chickens, an old Rotty named Tyson and a flock of ducks and geese. During a heat wave my duck and geese friends struggled in the heat. Mike built us this beautiful pond to swim and play in. Mike said you always have to look after pets like they were your own children"

"My Name is Ruby and this is my brother. Mike has always been interested in human nutrition. He spoke to my Mom and Dad and he used this knowledge to change our diet. Every night he would puree a few raw vegetables and raw human grade mince. He would then add bits of raw liver, raw kidney, raw steak etc He would then crush up chicken necks between 2 bricks. Wow, did we enjoy this meal. When my Mom and Dad came back from holiday, they said we looked beautiful. They have continued to feed me this new diet. On special days I get a raw egg and a dollop of natural yoghurt"

My name is Mac. I am a huge Bull Mastiff. I live with Holly, a lovely Border Collie. When ever we go on walks everyone remarks how pretty, attractive and cute Holly is. They just ignore me. Not very good for my self esteem and confidence. To help me recover from this daily experience, every night before bed time Mike would sit me down by myself and sing me a beautiful song. It went like this…
Are you the most beautiful dog in Perth,
Are you the cleverest dog in Perth,
Are you the nicest dog in Perth,
Cos we all just love you so so so.
Are you the fastest dog in Perth,
Are you the hottest dog in Perth,
Are you the cuddliest dog in Perth,
Cos we all just love you so so so.
"Being slightly challenged in the looks department, my heart felt so good"